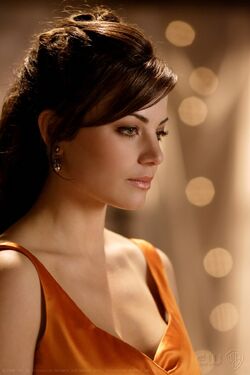 First appearance
"Dark Side of the Moon"
Affiliation
Winchester Family, Singer Family, Harvelle Roadhouse
Else Mortenson was a famous hunter, the wife of Curt Mortenson, and the mother of Max.
Appearance
Else was a beautiful young woman with long dark brown hair and green eyes. She typically wore her hair in various hairstyles, usually with flower hairpins and wore plaid shirts with blue jeans and cowboy boots.
Personality
Else is viewed as being something of a mirror of Mary Winchester. She was against Max getting into hunting, because she deeply cared for her and wanted her to have a normal life, and even died to protect her. According to Max, she was very tomboy-ish and enjoyed playing soccer with Max.
History
Not much is known about Else's history, but it is known that she attended prom and homecoming in high school with Curt and married him when she was nineteen. She was pregnant with Max when she was twenty. She died when Max was nine, making her twenty-nine to thirty at her time of death.
Plot
Season Five
Else was first seen in the Season Five episode "Dark Side of the Moon" when Max temporarily died and went to Heaven and relived moments that were "heaven" to her and was in the first three moments.